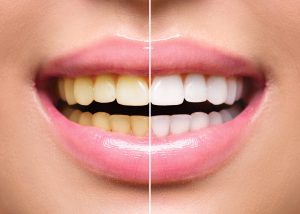 Will Teeth Whitening work for me?
Most people think that teeth whitening is something that only the rich and famous do. But you don't need to be either to enhance your smile and boost your confidence.
Are at home whitening strips better than seeing a professional?
Although teeth whitening is becoming more recognized and everyone desires to have a perfect smile, you may not know which direction to go when it comes to whitening your teeth. DIY whitening can temporarily work if you are on the go and do it for maintenance, but there are also many problems that may come from using at home teeth whitening strips. Most teeth whitening strips are small flexible plastic pieces called polyethylene. The strips are coated with whitening gel containing carbamide peroxide and hydrogen peroxide. Without the help and monitoring of a professional dentist you can be disposed to possible damage if not done correctly. If the strips aren't cut to fit the shape of your teeth, they can touch your gums and cause some harm to them. Not only can they affect your gums, but they can also lead to yellow spots. Since your teeth are three-dimensional and most strips are one-dimensional, it is hard to get between the curves and spaces of your teeth. This often creates the center of the tooth to become white, leaving the rest yellow or gray with an exposed color difference.
Can professional teeth bleaching remove severe stains?
Though drinking coffee, tea and wine on a regular basis can cause discoloration on your teeth, smoking is the major culprit when it comes to creating stains on your teeth. If you have intense discoloration it can be removed by a professional hygienist at their office. There you can discuss which solution is right for you. The most popular method is custom whitening trays; they are the most cost-effective and give you the best results. Plus, this is a surgery-free procedure!
How will teeth whitening enhance my appearance?
Not only will you have a radiant bright smile, but teeth tell a lot about your appearance. More people are drawn to people with brighter smiles. It creates confidence boosts and releases natural endorphins when you smile. And who doesn't want to take advantage of smiling to show off their pearly whites!
How long do the whitening does affects lasts?
Most bleaching procedures can last between two years to six months, depending on the professional procedure that you go with. Also avoiding coffee, red wines and smoking can help preserve the results. And again don't forget to brush and floss your teeth after every meal and visit your dentist regularly to maintain the health of your mouth.
If you have any questions or you need the assistance of Dr. Alena Nawrocki please call our Dental Arts San Diego office at (619) 444-1001
We are located at 707 ARNELE AVENUE, EL CAJON, CA 92020
Our email address is dentalartssandiego@gmail.com