I have some bad news: a study of dental records by Colombia University found that people who miss 8+ teeth tend to have a lifespan that is on average 15 years shorter than that of those who retain all their natural teeth by age 74. Imagine living with a mouth that looks like the one shown in the photo…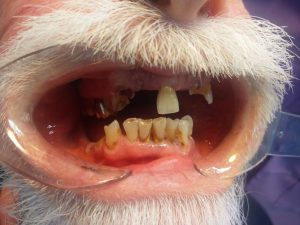 But what if it's too late to count your natural teeth as so many have left your mouth a long time ago? Now I have some good news for you! You can still better your health by adding more teeth. More teeth translates into easier chewing, higher absorption of nutrients, better memory and reliable function of your internal organs. The picture above represents a patient who is on the right track to be healthy again, however he has only half his teeth, rendering chewing impossible. In the picture below, you see him after his remaining teeth had been removed, and stitches placed, with two implants positioned in his jawbone to hold the overdenture steadily in place.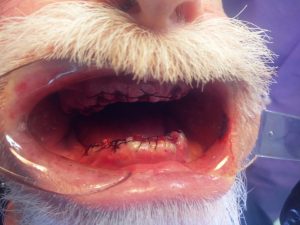 Two-implant-supported dentures replenish only 25% of chewing efficiency because they tend to move around the mouth excessively. It makes it hard to catch a piece of food between them as you are trying to keep the denture itself from flying away. To counteract this minor complication, we place more implants to keep the denture more securely in place – increasing the chewing efficiency by 10% for each implant. Depending on the availability of sturdy jawbone, 4-6 implants will keep the denture steady in your mouth giving you maximum confidence and security while simulating the closest possible feeling to that of natural teeth.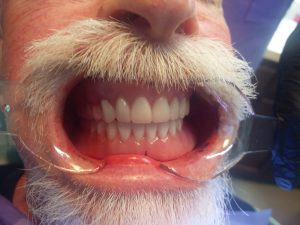 Implant supported overdentures are an excellent treatment that can prolong your life, bring back that youthful feeling, allow you to have corn on the cob and to chew your steak instead of drinking it out of the blender.
Come into our office or give us a call so that we can help you make it to 100!
Contact us Monday through Saturday at (619) 444-1001 😊