Taking care of your teeth and gums is essential throughout your entire life. However, as we begin to age, our teeth may require extra special attention to keep them in good shape. Elderly dental care is vital in maintaining a senior's overall quality of life. As seniors are more susceptible to oral conditions than younger people, a few extra steps should be taken to keep their oral health in check. We compiled a list of dental health tips for seniors that'll help them properly care for their oral health and prevent any potential issues.
Tip #1: Brush Daily
We hear it all the time! Brush and floss every day. While it may be redundant, it actually plays a crucial role in everyone's oral health! Establishing a daily routine of brushing twice a day is great for many seniors. However, for those looking to improve their oral hygiene, brushing a few extra times here and there will not do any harm. Soft-bristled toothbrushes are usually recommended for seniors; however, sometimes hard-bristled toothbrushes are recommended for those with certain gum conditions. Speak with your dentist to find out which type of toothbrush is best for you.
Tip #2 Floss & Use Mouthwash
While we all know how important flossing is, many of us still don't do it. Seniors especially need to make a habit out of flossing daily. By doing it on a daily basis, seniors can improve their dental health outcomes and reduce the risk of gum disease and cavities. Flossing is quick and easy, and the benefits greatly outweigh any perceived inconvenience. Using mouthwash 1 – 2 times a day is a great way to supplement your dental care routine. You should first floss, then brush, and finally, rinse with mouthwash.
Tip #3: Take Calcium Supplements
Calcium is an integral part of dental health, especially for seniors. As we get older, we tend to get less calcium in our diets. Be sure to get plenty of calcium, whether in food, supplements, or both. Seniors are more susceptible to osteoporosis, so ensuring that your teeth are strong is paramount. Intaking sufficient calcium will help combat osteoporosis and keep your teeth as strong as possible.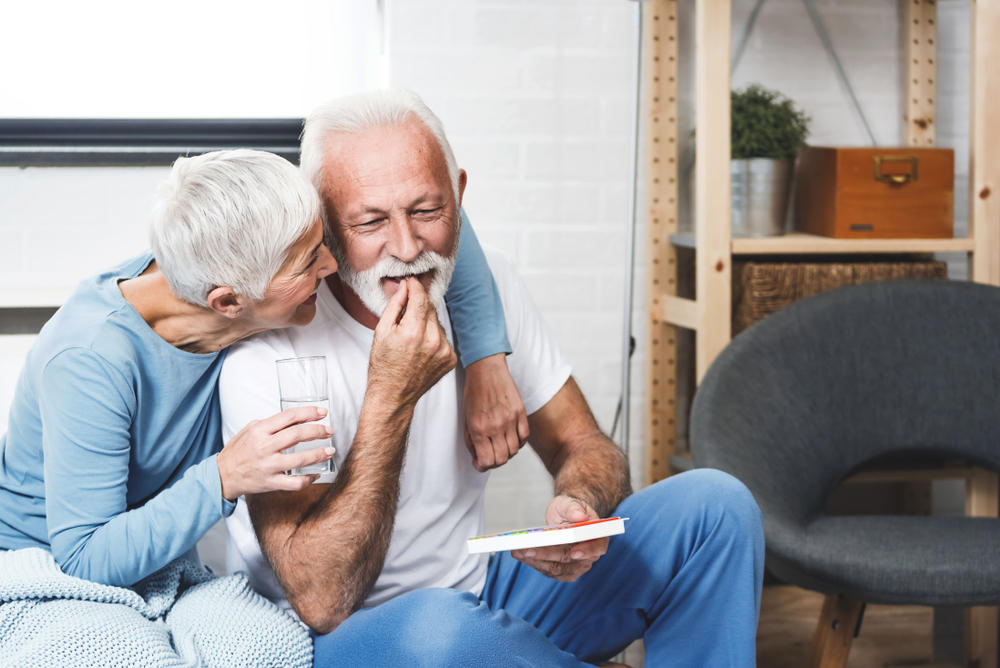 Tip #4: Talk to Your Dentist About Dry Mouth
Dry mouth is when you don't have enough saliva to spit or properly keep your mouth wet. Besides making it difficult to eat, swallow, or talk, dry mouth can also lead to tooth decay, enamel erosion, and infections. Many medications can cause dry mouth as a side effect. Talk to your doctor to see if there are alternate medications without this side effect. To help reduce dry mouth, stay hydrated by drinking plenty of water. The typical recommendation is about 64 ounces of water per day.
Tip #5: Take Care of Your Oral Appliances
Seniors are more likely to use oral appliances such as dentures, mouthguards, etc. Be sure you follow the proper cleaning procedures of these items. Your dentist will provide you with instructions on how to properly maintain and care for these appliances. If you're unsure, be sure to meet with your dentist and ask how.
Tip #6: See Your Dentist Regularly
Scheduled dental visits are vital for senior dental care. Infrequent visits can allow time for oral problems to worsen and become more serious. Seniors should be sure to make appointments for cleanings at least twice per year. Your dentist can talk to you about the type of care your teeth need and keep a watch for any conditions early on before they become a big problem. We hope these dental health tips for seniors help you see what dental care practices are recommended for seniors. If you have any questions or would like to schedule your appointment, please call (619) 444-1001, or click here. We are located at 707 Arnele Avenue, El Cajon, CA 92020.