Having a healthy smile is so much more than making an excellent first impression. It is also essential to your overall well-being. When you have dental issues like cavities, damaged teeth, or missing teeth, your quality of life and self-esteem also suffer. At Dental Arts San Diego, we use advanced technologies with careful planning and placement to address your oral health needs.
Our dedicated team of skilled dental professionals is committed to helping you achieve your best smile in a fun and positive environment. Dr. Nawrocki provides compassionate and personalized dental services to individuals and families in El Cajon and the surrounding area. Call us today and schedule an appointment to see the difference that quality, individualized dental care can provide.
What Restoration Services Do You Offer?
Restorative dentistry focuses on preserving your original dental structure and restoring damage from decay and trauma. Our experienced and compassionate team can bring beauty back to your smile with treatments ranging from fillings to dental implants. The treatments we provide help to restore function to your teeth and alleviate any pain you may be experiencing. We can help you establish a strong foundation of oral health with our comprehensive services, which include:
Dental Implant Placement & Restoration

Composite Fillings

Inlays & Onlays

Crowns & Bridges

Full & Partial Dentures

Root Canal Therapy

Extractions

Gum Disease Treatment

Invisalign® Clear Braces
What are Dental Implants?
Dental implants are an artificial replacement for tooth roots made of titanium. We surgically insert them into your jaw, where they bond with your natural bone to offer a strong foundation for a custom prosthetic.
By replacing missing teeth with implants, their structure and roots are restored. They return essential stimulation to the jawbone, preserve bite force, and renew oral health. Traditional restorations and those supported by dental implants look natural and improve function, appearance, and self-esteem.
7 Benefits of Dental Implants
The top benefits of dental implants include:
Helps to preserve jawbone integrity

Supports facial structure from the sunken look

Stops the shifting of neighboring teeth

Improves confidence when smiling or eating in public

Gives the freedom to eat all your favorite foods

Limits future costs and time spent at the dentist for restorative care

Easy to care for as natural teeth
The Dental Implant Process
A detailed consultation and thorough oral health exam will help to determine if dental implants are the best treatment option for your needs. Dental implant treatment includes:
Planning: Our team will evaluate your oral health to determine if implants are the right fit for you and what preliminary care may be needed. If you need periodontal treatment or bone grafts to strengthen your jaw, those issues will be treated first.
Placement: We provide skilled and precise in-office placement of your implant posts. Depending on the number of implant posts needed, this could take more than one appointment.
Resting: After implantation, your mouth requires time to relax and heal while your jawbone bonds with your implants. This bonding process, also known as osseointegration, is necessary for your posts to remain permanently in the jaw and may take several months.
Completion: Once your mouth has healed from implant placement, our dentist attaches the abutment to each implant. This piece is responsible for connecting your restoration to your implant posts. We then take impressions of your smile and send them to a trusted lab to craft your custom dental prosthetic. Our team will place a temporary restoration in the meantime.
Preserving Oral Health with Root Canal Therapy
If you are experiencing persistent tooth pain, you may need a root canal treatment. Dental discomfort and sensitivity are common symptoms of infection entering the inner chambers of your tooth. Root canal therapy can help to save a natural tooth when severe decay and disease threaten its health.
Before we begin the procedure, we thoroughly numb the area. Using specialized tools, we'll remove the diseased tissues from your tooth. Then, the root canal chambers are cleaned and sealed with an anti-bacterial material. Once dried and sealed, we'll protect your treated tooth from future harm with a beautiful dental crown.
If your tooth is determined to be unsalvageable, we can still treat the issue with an extraction procedure. While we always strive to save natural teeth whenever possible, extraction may be the best option to protect your oral health.
5 Reasons Why You Might Need an Extraction
We work hard to preserve your natural teeth as much as possible, but there are cases where extraction may become the healthiest treatment option. Here are five reasons you might need to have a tooth extracted.
A tooth is severely damaged or decayed

A baby tooth hasn't come out, and the adult tooth is emerging

You have partially erupted or impacted wisdom teeth

Your teeth are overcrowded and need room for orthodontic treatment

The tooth has lost gum and bone support due to periodontal disease
We offer a variety of options to replace a tooth that has been extracted. Fixed bridges, dental implants, or dentures can all restore form and function to your smile.
What Causes Gum Disease?
The leading cause of gum disease is plaque buildup due to poor oral hygiene. However, gingivitis can develop due to other factors, such as genetics, taking certain medications, or as a side effect of radiation treatments.
Oral bacteria thrive easily when your gums become sensitive and inflamed. Hormone changes during menopause and pregnancy can also cause this sensitivity. Immune diseases such as HIV and cancer can lower your body's defense response and affect gum health.
How Do You Treat Gum Disease?
The purpose of gum disease treatment is to reduce inflammation, stop disease progression, and reduce or eliminate an infection. Treatment methods depend on the level of disease and your overall health. Our treatment options include tooth scaling to remove hardened plaque or tartar below the gum line. We can also perform root planing, which smooths the tooth surface beneath the gums to prevent decay, or professional cleanings using laser technology to remove harmful bacteria.
Restoring Alignment with Invisalign
Some dental problems are caused by the alignment of your teeth or the position of your bite. Orthodontic treatment can help to correct conditions that could lead to tooth decay, excess wear and tear, jaw pain, and gum disease. Instead of using traditional wire braces, we offer Invisalign clear aligners. They correct such problems as crowded teeth, crossbites, overbites, underbites, and gaps between your teeth.
The advantage of using Invisalign is that they are almost undetectable, which makes them great for adults. We use digital imaging to design your unique set of aligners and gradually move your teeth into proper alignment.
These trays are removable, and you can easily take them off for eating or drinking. Every two weeks, you use a new set of aligners that move your teeth further. On average, you may go through 20-29 sets of aligners during your treatment as your teeth gently shift into place.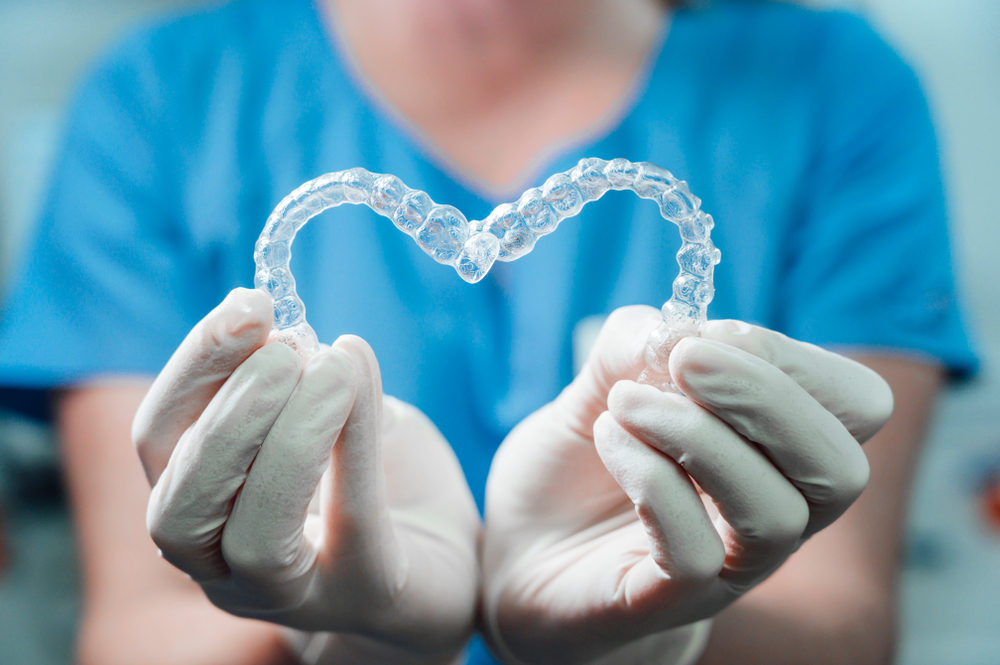 What is a Full-Mouth Restoration?
A total mouth restoration involves cosmetic and restorative dental therapies working in unison to repair and enhance your smile. We set up each step of the process to create the attractive, comfortable smile you've always wanted.
We customize your treatment plant to ensure that you have an appropriate solution for each issue. At our initial consultation, we take time to learn all about your concerns and goals. We seek to understand your expectations so that we can provide the best experience possible.
Treatments often included as part of a full-mouth rehabilitation plan include:
Crowns

Veneers

Dentures

Dental Implants

Bridges

Fillings, Inlays, and Onlays

Invisalign Clear Aligners

Teeth Whitening

Gum Contouring
The full-mouth rehabilitation process is designed to improve bite function and enhance aesthetics. If your teeth are missing, stained, or badly worn, then you may be a candidate for full mouth rehabilitation.
Dedicated to Keeping Your Smile Healthy
At Dental Arts San Diego, we are committed to providing you and your family with attentive and gentle care. Our goal is to provide comprehensive service and advanced treatments to help you restore your smile and keep it looking great. Schedule your appointment today, so we can help you achieve your best smile!
Check out our 

Full Mouth Restoration: Fixed Bridge And Complete Upper Denture

 video below: